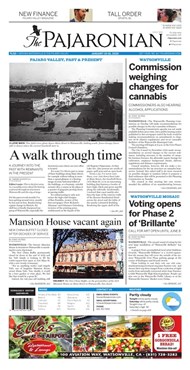 Watsonville's Pulitzer-Winning News Leader
The Pajaronian is the news leader of Watsonville, California and the Pajaro Valley in Santa Cruz County on California's Central Coast. The Pajaronian is published weekly every Friday. Its coverage area includes Aptos, Corralitos, Pajaro, Aromas and most of North Monterey County.
Founded on Mar. 5, 1868, the newspaper has an illustrious history. It became the nation's smallest daily paper to earn a Pulitzer Prize for public service in 1956 after its photographer caught the county's district attorney participating in illegal gambling.
In July 2019 the newspaper returned to local ownership under the same umbrella as Good Times Santa Cruz. Its offices returned to downtown Watsonville after a 50-year absence and its original name was restored. A new logo and redesign was introduced, its website was redesigned and a real estate' and lifestyle-focused weekly magazine, Pajaro Valley, began publishing.
ADVERTISING
CIRCULATION
EMPLOYMENT
EDITORIAL